Biography
Individually tailored consultations, lectures and
trainings to enhance well-being, promote social justice,
and increase program effectiveness by a noted scholar,
researcher and public speaker

Alan Berkowitz is an independent consultant who helps colleges, universities, public health agencies and communities design programs that address health and social justice issues. His expert opinion is frequently sought after by the federal government and professional organizations, and he is well-known for scholarship and innovative programs which address issues of substance abuse, sexual assault, gender, and diversity. He is the Editor and founder of The Report on Social Norms.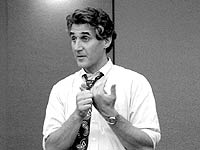 Dr. Berkowitz has over twenty years of experience in higher education as a trainer, psychologist, faculty member, and Counseling Center Director. At Hobart and William Smith Colleges he developed one of the first rape prevention program for men, was co-director of the college's highly regarded Men and Masculinity Program and chaired the Prejudice Reduction Task Force. More recently, he has been a central figure in the development of Social Norms Theory and is a leader in research and implementation of the model. His lecture and workshop topics include: changing campus culture, effective drug and sexual assault prevention strategies, reducing prejudice on campus, racial identity theory, multicultural issues in the classroom, alcohol and sexual assault, men's responsibility for preventing sexual assault, developing alliances across differences, and understanding today's students. His workshops are designed to increase the personal and professional effectiveness of faculty, staff, student leaders, athletes and coaches, health professionals, and community members.

Dr. Berkowitz received the Ph.D. in Psychology from Cornell University in 1981 and is a New York State licensed Psychologist. He has received awards from a number of national organizations, including the "Outstanding Service Award" from the Network of Colleges and Universities Committed to the Elimination of Alcohol and Drug Abuse (for his significant lifetime contribution to the field of alcohol and drug prevention) and the Miguel Garcia-Tunon Memorial Award for Human Dignity from the American College Health Association (which is given to an individual whose life, writing, research, or way of living has promoted the cause of human dignity and the appreciation of human differences.) In addition, he is a Fellow of the American College Health Association and has been recognized by the American College Personnel Association for his "Outstanding Contributions to Men's Issues and for "Outstanding Alcohol prevention and Education Initiatives."

Alan lives in Trumansburg, NY and is the father of a teenage daughter.


Selected Publications


An Overview of the Social Norms Approach. Chapter 13 in L Lederman, L Stewart, F Goodhart and L Laitman: Changing the Culture of College Drinking: A Socially Situated Prevention Campaign, Hampton Press. (2004)

Working with Men to Prevent Violence Against Women (In two parts), Part 1: An Overview, and Part II: Program Modalities and Formats. National Resource Center on Domestic Violence Electronic Network Applied Research Forum (VAWnet): www.vawnet.org. 2004

The Social Norms Approach: Theory, Research and Annotated Bibliography. Posted on the Higher Education Center Social Norms website www.edc.org/hec/socialnorms/. 2004.

The Social Norms Approach to Violence Prevention. Appendix to "Young Men as Allies in Preventing Violence and Abuse: Building Effective Partnerships with Schools" by Alan Berkowitz, Peter Jaffe, Dean Peacock, Barri Rosenbluth & Carole Sousa. Available from the Family Violence Prevention Fund's Building Partnerships to End Men's Violence Website at: www.endabuse.org/bpi, 2003 (click on "Online Discussion Series").

Engaging Men as Social Justice Allies in Ending Violence Against Women: Evidence for a Social Norms Approach. (with PM Fabiano, HW Perkins, J Linkenbach, and C Stark. Journal of American College Health, 52(3):105-112, 2003.

Applications of Social Norms Theory to Other Health and Social Justice Issues. Ch 16 in H. Wesley Perkins (Ed). The Social Norms Approach to Preventing School and College Age Substance Abuse, San Francisco, Jossey-Bass. 2003.

Fostering Men's Responsibility for Preventing Sexual Assault. Chapter 7 in Paul A. Schewe. (Ed). Preventing Intimate Partner Violence: Developmentally Appropriate Interventions Across the Lifespan. Washington, American Psychological Press. 2002

Critical Elements of Sexual-Assault Prevention and Risk-Reduction Programs for Men and Women. Chapter 4 in Christopher Kilmartin, Sexual Assault in Context, Teaching College Men About Gender. Holmes Beach: Learning Publications (available from the author). 2001

The Proactive Prevention Model: Helping Students Translate Healthy Beliefs into Healthy Actions. About Campus, Sept/Oct 1998, 3(4):26-27.